On the brink of the Pandemic Pact from the World Health Organization (WHO), the WHO declares the new pandemics in future are inevitable. However, the lessons of the pandemic must not go unlearned. Governments, international organizations, and populations are now well-aware of the dangers related to pandemic and of the good practices to prevent the risk of contamination as much as possible.
One of the best ways to prepare and prevent pandemics, especially in developing countries, is the safe management of solid waste and particularly the proper management of the infectious hospital waste.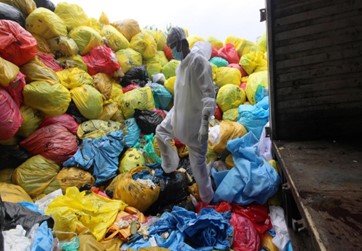 According to the WHO, healthcare waste should be treated, preferably on-site, and then safely disposed. If waste is moved off-site, it is critical to understand where and how it will be treated and disposed. The WHO together with governments is currently drafting a new pandemic accord for pandemic prevention, preparedness, and response. It is important to learn from past experiences and be prepared for potential future pandemics by investing in public health infrastructure and improving global cooperation and communication to effectively respond to outbreaks.
UNICEF suggests improving primary healthcare to prepare for future pandemics by training healthcare workers, establishing effective response systems and strengthening logistic supplies – which highlighted a challenging topic during the COVID-19 pandemic: a safe healthcare waste management.
If proper healthcare waste management is underlined in the Pandemic Pact of the WHO, what is the best way for hospitals to address this challenge?
Sterilwave, developed by Bertin Medical Waste, is designed to treat hospital waste directly on-site to prevent any external contamination and the risk of uncontrolled waste dumping.

Bertin Technologies has responded to the calls for help and needs of Ministries, International Institutions, and hospitals across the globe for COVID-19 emergency responses to tackle the increasing bio-hazardous waste accumulated by healthcare facilities.
Hospitals that are equipped with Sterilwave treat their waste in a safe but also sustainable way, technology awarded by the prestigious UNIDO Global Call 2022.